6 Mins Reading Time
Alternative To Cable – Save Thousands Per Year
Cable is expensive. And with fewer and fewer options to drive competition, the price of television service continues to go up. A 2018 study conducted by Leichtman Research Group suggests that the average subscriber is paying $107 a month. That's $1,284 a year. Yikes! The good news is that there are lots of money-saving options available to you. On that note, I've put together a list of six great alternatives to paying for cable below!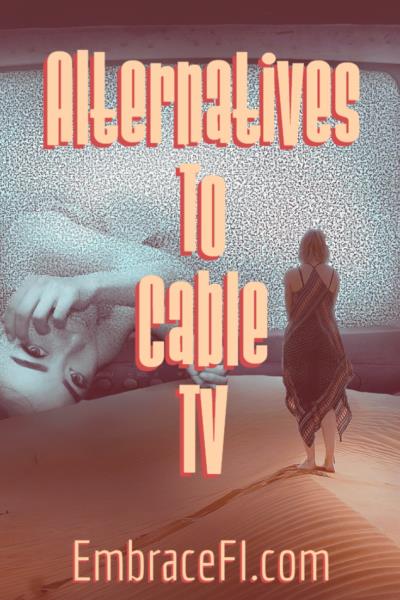 Bundle Streaming Services
Many cable networks and some old-fashioned TV networks can now be watched on a Roku, Amazon Fire Stick, Apple TV or other streaming devices. Many of these services offer a free experience with ads and an ad-free experience for a small monthly subscription.
Figure out what channels you actually watch and many people find out a paid streaming subscription with no ads ends up being less than their cable bill with ads! For channels you watch infrequently, download the free version and simply watch with ads. Even local stations offering local news now have streaming apps. New ones are being added weekly and it's definitely the future. So cut your cable tv today and start saving money now.
A Digital Antenna
This is a fantastic option for anyone who mostly watches local channels. Nearly all televisions come equipped with a built-in digital antenna that will allow you to tune into your local networks and get access to a plethora of other programming. In a major metro area, you can expect somewhere between 70 availble channels on the lower end to 100+ channels on the higher end. If you have an older television set, you can pick up a digital antenna for around $20.
Stream for Free on Your Computer
This option isn't ideal for the consumer who watches a lot of television and wants to view their favorite shows during or shortly after live broadcast. However, if you are not a big TV person, you can catch a lot of your favorite programs from the major networks and even some content from channels like Comedy Central, HGTV, Cartoon Network, and BET for free online. There is typically a delay between the time of live broadcast and complimentary episodes being made available to stream online. But it's a great solution for anyone that doesn't watch much television and doesn't mind waiting to see their preferred programming.
Sling
Sling TV allows you to watch live programming from many of the channels offered by your cable company. Price plans start at $30 (with the first month offered for $10 off). Sling offers starter Cloud DVR service for free and an enhanced (more storage) version for just $5 additional. Among the available channels (keep in mind that lineup varies by the package you select) are Bravo, AMC, and A&E. Add on packages allow you access to Viacom networks like MTV, Logo, and CMT. Sling offers more affordable entry level programming but the tradeoff is that you get slightly less selection in terms of channel availability with their more cost-effective packages.
The service works with Amazon Fire TV, Apple TV, Google Chromecast, Roku, and more. Also note: Sling will send you a free Fire TV streaming stick when you prepay for two months of service.
Hulu + Live TV
Although it's a little more costly than Sling, Hulu offers live TV service for $54.99 a month. I addition to 65+ channels (including at least five ESPN channels and FOX Sports), you also get access to Hulu's television and film library as part of the standard subscription package. 50 hours of cloud DVR are also included with subscription. The downside to Hulu + live TV is that you won't have access to Viacom channels like Comedy Central or any of the MTV Networks.
Compatible devices include: Amazon Fire TV, Apple TV, Google Chromecast, Roku, and more.
YouTube TV
YouTube now offers their own live television streaming service. It includes over 70 live channels, as well as local sports, news, and more! Noticeably absent from the lineup are Viacom networks like BET and MTV. Their price tag is a little higher than some of the other options, but their channel lineup is impressive.
The service is compatible with many Smart TVs, as well as Apple TV, Chromecast, Fire TV, and more.
Philo
If you haven't heard of this service, you're not alone. But if you're considering cutting the cord, give Philo some thought. The streaming service offers 59 cable channels for the exceptionally low price of $20 per month! Their sports programming is pretty much nonexistent but the subscription service does offer the Viacom package that is absent from YouTube TV and Hulu + Live TV. Also impressive is the fact that you can store unlimited programming for up to 30-days.
Philo service is compatible with Roku and AppleTV as well as the Amazon Fire Stick.
Have you cut your cable yet and become a cable tv cord-cutter?