8 Mins Reading Time
Easy Ways to Save Thousands Per Month
It's easy to resolve to save more. But actually putting your money where your mouth is (so to speak) can be challenging. With that in mind, I have put together 12 tips to help you save as much as $1,000 per month! Just think what you could do with an extra $12,000 dollars a year! That's money you could be socking away for retirement or using to start an emergency fund (hyperlinked text on emergency fund article here). Keep reading for 12 easy ways to save up to $1,000 per month!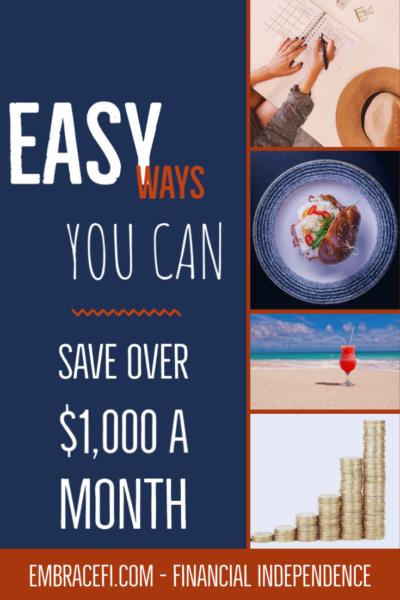 Stop renting your modem from the cable company
(Estimated Savings of $10+ a month)
Cable companies are notorious for nickel and diming you with bogus-sounding fees, perhaps the most egregious of which is the 'modem rental fee'. You can purchase a quality cable modem for well under $100. And the great thing about that is that you will save as much as $120 annually after your initial investment. Do take care to ensure you return your modem to your Internet provider's local office and get a receipt in case you are billed in error for unreturned equipment. There are endless Reddit threads detailing the experiences of customers charged for equipment they have returned.
Switch to a Budget Wireless Carrier with the Same Coverage
(estimated savings up to $30 a month)
The major wireless carriers have massive networks to maintain and they pass along the expense for said maintenance to the end consumer. Budget carriers like Straight Talk rent their network and pass the savings along to you. A starter plan with Straight Talk Wireless is as low as $34 a month (for lower end data users) as of this posting. And a starter plan with AT&T (for lower end data users) is $65 a month as of this posting. Why pay more for the same service?
Cancel Your Landline And Save Money
(estimated savings up to $30 a month)
Cable companies are big on bundling home phone service with their introductory offers. Several of my friends had home phone service that they were paying for and didn't even know they had. Cut the cord and start saving money each month!
Rerate your car insurance. Comparison Shopping Can Save You Hundreds of Dollars per Year.
(estimated saving of up to $65 a month on the high end)
Auto insurers prey on the idle. If you aren't actively comparing your rates, there is a very high probability you are paying too much. Run your rates through a site like Compare.Com to see how much you could be saving. Drivers have reported reductions of more than $700 a year simply by shopping around for a better rate.
Buy in Bulk and Save Money and Time.
(estimated savings of up to $100 – $200 per month)
If you don't have a Costco or Sam's Club membership, it's time to think about signing up. For an initial investment of $60, you could save hundreds (or more per year). The people that save the most plan out their shopping excursion in advance and adhere to a list, rather than buying whatever catches their eye. In addition to cutting costs by buying in volume, you will also reduce your trips to the store, translating to savings on gas and wear and tear on your car. CBN.Com calculates savings as much as 83% on generic bulk items like Aspirin and hand sanitizer and an average of 20% on most other items.
Brew coffee or tea at home and save bucks.
($150 a month average savings)
Take a look at your bank statement for the past 30 days. How much did you spend on coffee, tea, and the like? $5.00 seems insignificant but that adds up quickly when multiplied by 30. Brewing coffee or tea at home and taking it with you is a an easy and very effective way to save!
Save Money by Bringing Your Lunch to Work
(up to $300 a month average savings)
If you are dining out for lunch five days a week, at $15 per meal, that is an average expense of $300 a month. You can cut that down to a mere fraction of the cost by planning ahead and packing your lunch the night before.
Ditch Your Unused Gym Membership. Money Hack.
($47 TO $100 a month savings)
An all club access membership at 24 Hour Fitness runs upwards of $45 per month. If you aren't using that, you're wasting hundreds of dollars a year that you could be investing. If you are using your membership, consider a lower cost alternative like Planet Fitness where memberships start at just $10 a month.
Eliminate bottled water. Save Cash, Save The Environment.
(estimated savings up to $70 TO $200 a month)
Business Insider estimates the cost of bottled water at $1.22 per gallon when purchased in bulk and, 7.50 per gallon when purchased individually. A case of Smart Water runs about $20. If you burn through 3,5 cases a month, that's $70. By using the water dispensed from your fridge or a Brita filter, you can substantially reduce your plastic waste and save yourself a great deal of expense in the process!
Give Up Soda. Save Cash, Save The Environment Part 2.
(Estimated savings of $70 – $100 a month)
If you drink 2.6 servings of soda a day (as the average soda-drinking American does according to a 2015 Gallup Poll) at an average cost of $1.00 per bottle, that adds up to more than $70 a month on empty calories that offer zero health benefits.
Shop at a Discount Grocer for Items You Don't Buy in Bulk
(estimated savings up to $100 – $150 per month)
It's tempting to automatically go to the closest grocer to your home. But what that saves you on gas is greatly outweighed by the benefits of shopping at a discount grocer for items you don't use regularly enough to purchase in bulk. Consistently shopping at a store with lower prices and making use of coupons can add up to substantial monthly savings!
Buy Store Brand Groceries. Same Product, but Save Money
(estimated savings up to $50 per month)
The price difference between name brand groceries and a generic are often staggering. And the quality difference is negligible. This is particularly true for over-the-counter medications. The cost difference between the leading name brand antacid and the store brand at my neighborhood grocer is a whopping $6.00. Simply switching to generic products in any instance where opting for the name brand isn't necessary adds up in a huge way.
There you have it. I've just laid out some relatively minor changes that could save you up to $1,022 to $2,000+ a month! That's over $12,000 a year.
Related Content on Lifestyle Savings:
What ways do you save money? How much do you think it saves you every month?