5 Mins Reading Time
Financial Advice Sources Anyone Can Use
A financial advisor is great to have. A good one is well worth the money. But maybe you are just starting out or simply cannot afford the extra expense right now. If that is the case, no problem. There are a number of resources available to you that won't cost you a penny. And some of them may not have even occurred to you. Take a look at my top five suggestions for where you can get free financial advice!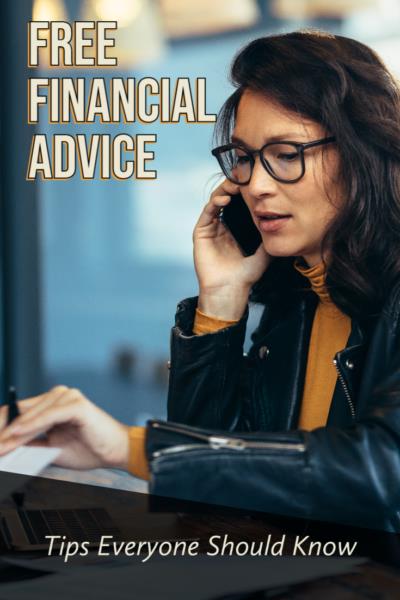 Financial Podcasts
There are over a million podcasts available right now via Apple, alone. Of those podcasts, there are many that delve into financial advice. No one cast is right for everyone but I, personally, enjoy the Financial Freedom podcast and the ChooseFI podcast. Both offer great info about FIRE (Financial Independence, Retire Early – but we prefer work optional) and you don't have to pay anything to listen. While this option may not be as targeted as your own, personal financial advisor, it's hard to beat the price.
Your Credit Union or Bank
Your financial institution may be able to offer you advice on a variety of topics. For example: If you're trying to prepare to buy a home, your bank can help you determine if you are on track to purchase a house and if you aren't, they can coach you on what it is that you need to improve upon or change to be ready in the future. Bankers can also help with investing in the market. But keep in mind that most banks will want a minimum investment in exchange for their services. But, if you have a good relationship with your banker, this could be a possible alternative to paying a financial advisor.
Online
There are many blogs and websites online (like the one you are visiting right now) that will help you with financial questions and offer solutions to common problems and advice on a range of different topics. And while the articles are not customized for your situation, there is enough content available that you should be able to find the answer to virtually any (basic) questions you may have by searching our site or one like ours.
Your Workplace
It is quite possible that your employer has resources available to you for planning your 401k investments. Your workplace may even offer a 'financial well-being' program. Not sure what your employer offers? Reach out to your human resources department to find out. If you don't ask, you may be missing out on free services.
Financial Books
There are quite a few books on how to manage your finances and many of them are drilled down to very specific topics. There are tomes dedicated to almost any subject you could imagine, from how mortgages work to preparing to buy a home. And it's even possible that you can find what you're looking for at your local library, for free. If you aren't sure where to start, I recommend The Total Money Makeover by Dave Ramsey and Transforming Your Relationship With Money by Joseph R. Dominguez, Monique Tilford, and Vicki Robin.